Biography
Dak Prescott's Parents: Meet His Dad Nathaniel and Mom Peggy Prescott
Parents Of Dak Prescott Background Details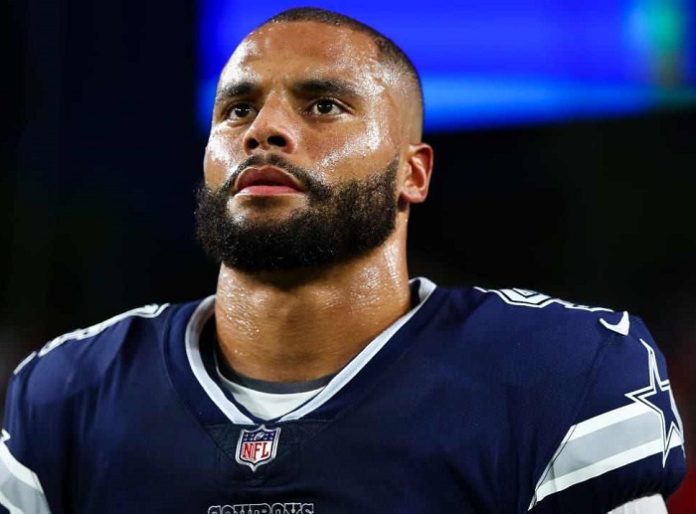 Nathaniel and Peggy Prescott are Dak Prescott's parents. The main reason the famous American parents are well-known is because of Dak, an NFL quarterback.
Rayne Dakota 'Dak' Prescott is well-known in the North American Football League and has played for the Dallas Cowboys for up to five years. His immediate family, however, has mostly remained unknown up until this day.
They are seldom ever addressed and are never seen on television cheering for their kid from the stands when he throws one of his numerous touchdown passes. Here is everything we know about Peggy and Nathaniel Prescott, who are the parents of Dak Prescott.
Dak Prescott's Parents Were Married For Over 5 Years
Although information regarding how and when they first met has not yet been revealed, online sources have disclosed that Dak Prescott's parents were once married and lived as husband and wife. Their wedding date and the kind of wedding they had, have also not been revealed yet.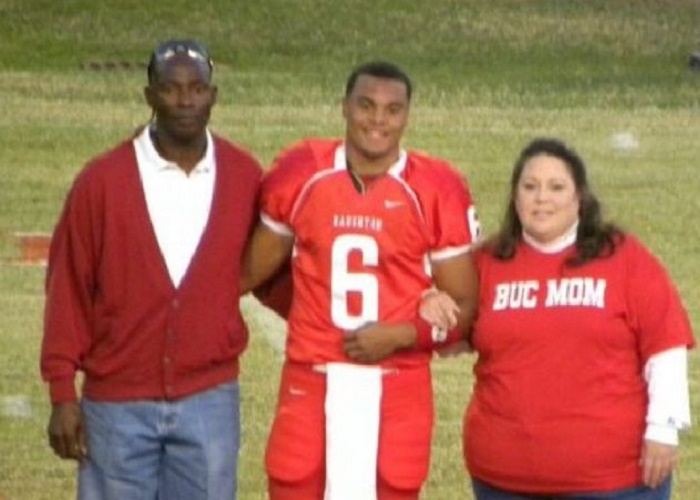 One worthy-of-note piece of information is that Peggy is not the first wife of Nathaniel Prescott, and their family is not the first he ever had. Several sources have it that Dak Dak's father was once married and had a family before he met and married his mom.
However, information regarding his first marriage, which includes the name of his first wife, when they got married, and why they parted ways among others has remained a secret to this day. But, it is known that he had a male child from that union named Elliot. Elliot and his mother are the first families he had, sadly, there's no news about their whereabouts currently.
When Did Dak Prescott's Parents Get Divorced?
It is no news that Dak's parents parted ways some years after they tied the knot, but the year they split is yet to be made public. Information about what led to the crash of their marriage also remains a mystery to the public. However, it is widely reported that they split based on varying interests, and following the demise of Peggy, we may never get a balanced side to that story.
It is also not known if the divorce turned into a court battle if they settled out-of-court, or if the former husband and wife just chose to mutually go their separate ways after staying together. We may never have answers to these.
Be that as it may, the divorce did not cut off the relationship between them. Dak's parents remained friends with each other even after they had gone their separate ways.
Who Is Nathaniel Prescott, Dak Prescott's Father?
Nathaniel Prescott is an American-born African American who gained public attention due to his association with his son, Dak Prescott, who is a  professional football player. Dak Prescott is a quarterback for the Dallas Cowboys in the North American Football League.
Multiple reports have it that Nathaniel Prescott did play football in his prime. He played football at Northwestern State and Grambling University as a linebacker. Although that cannot not canarly verified, one could agree that playing football runs in the family and that could be where Dak picked his talent from.
NathanielPrescotts is over 60 years of age as he is said to be born in the year 1961. However, his precise date and place of birthhaves not been revealed. Reports have it that he was raised in Louisiana, Saints Country. Apart from this very little information, nothing else is known about him.
What Does Nathaniel Prescott Do For A Living?
Dak Prescott's parents are hardworking individuals who did all they could for their children. Even though their union was short-lived, multiple reports have it that they gave their very best to see that they made life comfortable for Dak and his siblings.
It is unclear what job Nathaniel does for a living currently, but he has been described as a hardworking and proud father. It has been reported that he used to work as a city bus driver in Austin, Texas. He also served as a commercial driver in the oil fields in Louisiana in addition to once working in the oil industry.
How Involved Was He in Dak's Upbringing After the Divorce?
Dak Prescott's parents played very important roles in his upbringing. The 30 enjoys a comfortable life courtesy of the role his parents played in making him the champion he is today. Although both parents may not agree on certain issues, their efforts have been crowned with success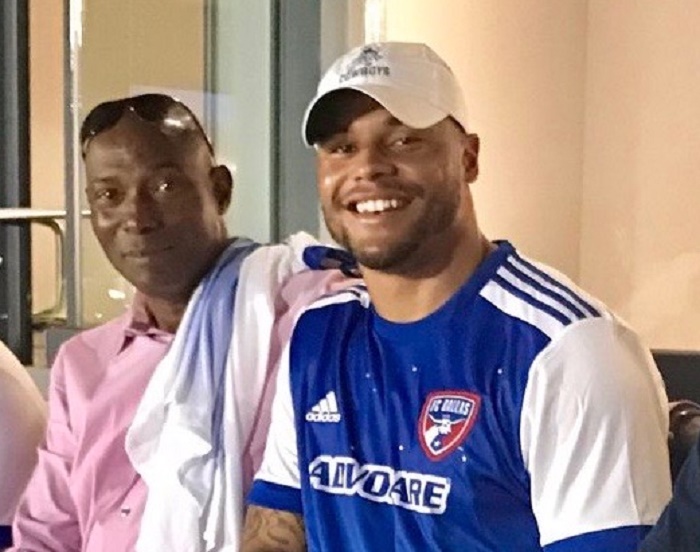 Because his ex-wife, Peggy, had custody of him and his siblings and raised them as a single parent, Nathaniel Prescott was largely absent from his son's upbringing. How close he was to Dak after his mother's divorce hasn't been discussed much. The NFL player, though, has claimed that his father was a significant figure in his life.
After his divorce from his mother, Nate may not have been fully involved in raising his famous child, but today it seems that he is his pillar of support. He is always there for him, attending the majority of his games and giving interviews in which he talks positively about his accomplishments.
Nate may not have had a strong presence in Dak's upbringing, but he is a strong force behind the success of his football career. Being the son of a one-time player, it was easier for Dak Prescott to play football from an early age.
The fact that Nate did not play football at a professional level notwithstanding, it's obvious he passed down his talent to his son. This could also be affirmed to be true as it is revealed that he has other sons who played football as well, but Dak Prescott was the only one tohaves made it to the professional level.
Nate Prescott's son, Dak, was said to be a star on his high school team (Haughton High School in Haughton, Louisiana) and helped them win the District 1-AAAA championship in 2010. Reports also have it that he continued to show off his talent while attending Mississippi State University. As a college football player, he racked up 70 touchdowns in 49 games for the Bulldogs.
Dak Prescott's Relationship With His Father
Dak Prescott's current relationship with his father has surprised the public because he (his father) was believed to have been absent from his life during the early part of his upbringing. So when he started appearing in the later part of the superstar NFL player's life, it was easy for many to speculate that hewass only turning up because Dakwass now famous and rich.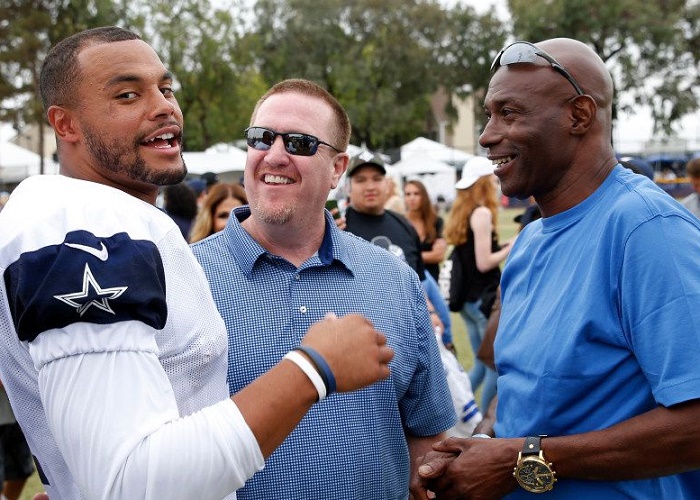 Nathaniel Prescott has, however, refuted many of those claims and wide speculations. Although he was polite with his remarks, he was able to use every chance he got to guide the public in understanding better the role he had played in his son's life.
He made it known that his relationship with his son has been nothing but a simple father-son relationship that the public has not been aware of. He explained how he seldom missed any game his son was involved in and sometimes traveled far to watch him play. It is stated that Nathaniel Prescott had moved across the country to be closer to his son Dak, after the passing away of his ex-wife Peggy, who died of cancer.
Nathaniel Prescott's Surprise Radio Call About His Relationship With His Son
While Dak was still a quarterback at the Mississippi State University football team, it was brought up during the Auburn vs. Texas A&M game on CBS that the quarterback was alienated from his father, Nathaniel Prescott. Prescott was infuriated by the claim that he was not involved in his son's life and sought to correct the record.
A popular Sports columnist, Pat Forde, had written a piece about Prescott's relationship with his late mother, Peggy; however, the narrative made no mention of Prescott's father. Forde, though, never brought up Prescott and his father's lack of a relationship, as reported by CBS.
Nathaniel Prescott decided to address the CBS assumptions and set things straight through a popular radio call-in show called The Paul Finebaum Show. Nate stated clearly that he may not be the first person his son looks for in the dawg walk, but he is the first he looks for after the game.
This goes to say that he offers more in the form of emotional and moral support whenever his son reaches out to him after every game. Nathaniel did not try to hide his displeasure with the media who were critical of his relationship with his son but spoke highly of Dak's relationship with his late mother.
Speaking during an interview with Fort Worth Star-Telegram in 2017 Dak confirmed that he had a good relationship with his father saying, "Me and my dad have always had a tight relationship, different from my brothers, I guess," But we all have our relationships. He has always been there for me."
Where Is Nathaniel Prescott Now?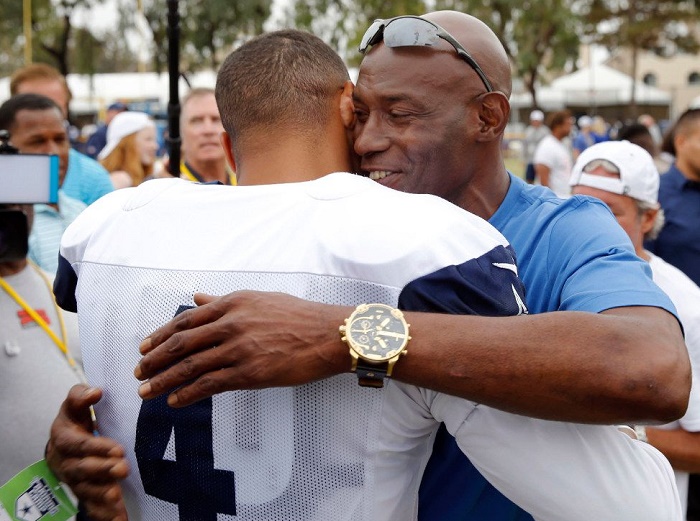 Nathaniel Prescott reportedly relocated to Frisco, Texas, in 2017 and still lives there to date. His reason for moving closer, according to him, was to become a pillar of support to his children in the absence of their mother, who is also his ex-wife. Although this decision was widely applauded, some quarters saw it as just a ploy for him to finally get to have some share of his son's celebrity status.
Who Is Peggy Prescott, Dak Prescott's Mother?
Peggy Prescott was an American woman who is mostly known as the mother of Dak Prescott. She was 51 years old at the time she died in the year 2013. She had four kids, including three sons and one daughter. Dak Prescott is the youngest and the most famous of all her children.
Since Peggy Prescott is white, many people have believed that she is of European descent; nevertheless, it is unknown if she is primarily of American or European descent. At the time this article was written, not much was known about her family history, including details about her parents and siblings.
Her exact age and birth date, among other things, are also unknown. Peggy Prescott was diagnosed with colon cancer in November 2013 and subsequently passed away.
What Did Peggy Prescott Do For A Living?
Peggy was a full-time single mother and dedicated all her energy to providing the best upbringing for her four children. Although it has not been confirmed what she did to earn money for the family's upkeep, multiple reports have it that she worked as a manager at a truck stop.
With that being said, following the outcome of Dak's success in life as a professional NFL player, we all can agree to the fact that Peggy Prescott was a very hardworking mother who did everything right for her children's welfare as a single mother.
She follows the line of many single mothers of famous people who gave it all to see that their children became successful even at the expense of their personal life achievements. On numerous occasions, Dak has dedicated his successful career to his mother, mostly noting that he gets his inspiration from her.
Dak Prescot Was Mostly Raised By His Mom
Nathaniel Prescott, Dak's Father, may now be the strongest presence in the player's life following his decision to move to Texas to be closer to his youngest son. However, Peggy was and still is a constant presence in the life of Dak, who admits it anytime he gets the chance. Most of his achievements are thanks to her.
Peggy had the most to do with the upbringing of the Dallas Cowboys Quarterback. Dak had always been exceptionally close to his mother, who had raised him and his three older siblings alone after her marriage to their father fell apart.
Multiple sources have revealed that the family resided in a mobile home park, and Peggy oversaw the neighborhood Travel Plaza where she worked and earned a living to cater to the smallsmallly. Dak explained that Peggy's daily work routine has always been the source of his work ethic on and off the pitch.
Peggy Prescott Nurtured Her Son's Talent Into A Successful Career 
Dak Prescott's parents together made a huge impact on his career. Dak got his football talent passed down to him from his father who also played football, not to a professional level though. However, it was the steadfastness, diligence, and constant encouragement of his mother that polished him into becoming a professional NFL player.
Peggy had Dak and his older siblings play football as kids at the back of the trailer park where they lived. That was their first training ground as kids until they were able to start playing in high school before they eventually got into colleges where they played college football.
During his high school days, Peggy didn't miss a single game. She spent and sacrificed a lot of her time to be there for her son. Before she became too ill, she made as many appearances as she could while Prescott was a student at Mississippi State. Prescott threw three interceptions in a loss to South Carolina the day before she passed away.
The following week, against Texas A&M, he ran for 154 yards and threw for 149 yards with two touchdowns in a 51-41 loss. His reaction, however, was something many came to understand about the influence she had on her son and the level of discipline he had instilled in him while she was alive.
Dak Had a Very Close Relationship With His Mother
Of his relationship with his parents, Dak talks about the relationship he had with his mother the most. He had often described her as his number one best friend, and the best coach he ever had. Although he does a lot of hard work for himself on and off the pitch, he has stated that her expectations of him are more than what he has for himself.
Peggy Prescott sacrificed living her own life to live for her children. She often pushed her son to his limit and sometimes would not allow him to do things he loved to do, even if he was going to do it to please her. Her faith in her son is one reason he can do what he loves to do every day.
Although she is no more in this world with us, Dak, who is often described as one of the NFL's best quarterbacks, has made it a routine to text his late mother before and after every game he plays. He does this as a way of keeping her and her memories alive and fresh in his heart.
What Happened to Dak Prescott's Mother?
Dak Prescott's mother, Peggy Prescott, died of colon cancer on 3rd November 2013 during his sophomore year at Mississippi State. Peggy was 52 years old when she passed away on that Sunday morning, after a lengthy battle with the deadly disease. Information is not revealed regarding when she started battling with the ailment.
Before her death, Dak struggled with her ill health, but he, nevertheless, did not allow it to affect his games. He played in 11 games, made impressive performances, and was named the MVP of the 2013 Liberty Bowl. His remarks when asked how he was able to play so well was that his mother would have loved him to never stop playing even after her death.
Peggy Prescott may have gone, but she is not forgotten, especially not by her 30-year-old famous son who remembers and honors her every Mother's Day.
In one of his many ways of honoring her, Dak has continually utilized his platform as a star athlete to raise awareness of Cancer disease. The Faith Fight Finish Foundation established by Dak in her honor focuses on fighting cancer and offering assistance to those facing life-challenging hardships.
Dak's Parents Have Four Children Together, and Peggy Raised Them Alone
As we mentioned before, Dak Prescott's parents had four children together as husband and wife, the Dallas Cowboys quarterback is not their only child. They had three male children and one female child, but Dak is the youngest of them. Their first three kids are; Tad Prescott, Natalie Prescott-Smith, and Jace Prescott.
Since Peggy Prescott is white, many people have believed that she is of European descent; nevertheless, it is unknown if she is primarily of American or European descent. At the time this article was written, not much was known about her family history, including details about her parents and siblings.
Her exact age and birth date, among other things, are also unknown. Peggy Prescott was diagnosed with colon cancer in November 2013 and subsequently passed away.