Biography
Raine Finley: Meet Chuck Finley and Tawny Kitaen's Daughter
Raine Finley Background Details
As the youngest child of Chuck Finley and Tawny Kitaen, Raine Finley is best recognized. Her mother is a Hollywood icon, and her dad is an American baseball player.
Although Raine has previously been in the television series "Celebrity Rehab with Dr. Drew," she is currently working in the film industry but not as an actress. She is still enrolled in her internship program at Warner Bros., where she is being taught music and sound by professionals in the field.
Summary of Raine Finley's Biography 
| | |
| --- | --- |
| Full Name: | Raine Finley |
| Born Date: | June 1, 1998 |
| Age: | 25 years |
| Lucky Number: | 9 |
| Lucky Stone: | Amethyst |
| Lucky Color: | Turquoise |
| Gender: | Female |
| Profession: | Celebrity Daughter |
| Country: | Los Angeles, United States |
| Marital Status: | Single |
| Net Worth | N/A |
| Eye Color | Dark Brown |
| Hair Color | Dark Blonde |
| Nationality | American |
Who is Raine Finley?
Raine Finley was born on June 1st, 1998, in Newport Beach, California, USA. Her parents are the very successful Chuck Finley and Tawny Kitaen. Her mother Tawny was a renowned actress, model, and media personality best known for her role in Bachelor's Party (1984). Her father Chuck on the other hand is a retired professional Baseball player.
Raine has an elder sister named Wynter Merin Finley who was born on March 18, 1993. She attended high school at Corona Del Mar High School. After completing her studies at the school, she was honored with the title of Athlete of the Year for representing her team in softball. She got admission to the Art Institute of California, San Francisco.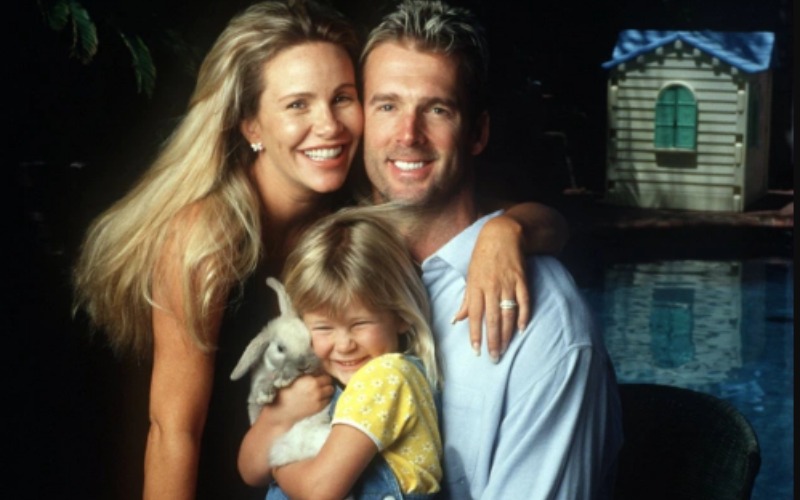 She is Pursuing a Career in the Media and Entertainment Industry
From her Instagram profile, we learned that in the fall of 2017 she joined a four-month internship program at 92.9 Kjee Radio Station in Santa Barbara. Raine often mixes different commercial breaks and keeps them updated on their different time slots.
After completing her four months internship, she started work as a waitress at Dolores Park Cafe in San Francisco Bay, where she worked for eight months. Her big break came in 2019 when she joined Warner Brothers as an intern under the guidance of Mike Marchain. For the past few years, Raine has been gaining expertise in ADR mixer, sound designing, and music supervision.
Raine Finley has also done some community service work as a partner fundraiser for children's hospitals and clubs. The celebrity often raises money for kids once a year while working in various programs for community service.
Is Raine Finley a Sportsperson?
It's easy to say that Raine Finley's passion of sports was strongly affected by the fact that her father was a well-known baseball player. When she was just six years old, she started playing softball. She frequently represented Corona Del Mar High School in sports like softball and soccer while she was a senior.
Raine has proven her athletic prowess by winning the Most Valuable Defensive Player Award for the junior varsity division while playing for her school's soccer team. She was selected as the varsity team's Athlete of the Week by the daily pilot. Her body weight at the time, which is now 56 kg and her height, which is now 167 cm, must have allowed her to, without a doubt, her height (which is now 167 cm) and body weight (which is now 56 kg) at the time must have enabled her to achieve great feats as a sports girl.
Her Parents Got Married in 1997 but Divorced 5 Years Later in 2002
Raine's father Chuck Finley walked down the aisle with his heartthrob Tawny Kitaen (Raine's mother) on November 20, 1997, after five years of dating her. The couple had been together since 1992 but got married in 1997. Sadly, their love story was short-lived, as Chuck Finely filed for a divorce two weeks after Tawny was charged with spousal abuse and battery.
Tawny was alleged to have kicked Chuck with her heels and twisted his ear while the duo was driving home from dinner. Tawny had reported calling 911 on Chuck that night, an action she says she deeply regrets. A restraining order was later issued on Kitaen at Chuck's request. She had admitted to being addicted to prescription drugs and had voluntarily checked in for a 30-days rehabilitation at The Promise.
On April 4, 2002, the couple was legally separated. Chuck gained custody of the girls as Tawny was deemed unfit to parent the girls, but after going sober, the girls moved in with their mother.
Raine is Not the Only Child of Tawny Kitaen and Chuck Finley
Tawny Kitaen and Chuck Finley welcomed their first daughter on March 18, 1993, a year after they started dating. This means that Raine Finley has an elder sister named Wynter Finley. The two sisters appear to share a connection while chasing their different careers.
Wynter attended CAPA International Education and Griffith University, and also enrolled in the University of Colorado where she graduated with a Bachelor of Art in Communication in 2015. She added a few feathers to her cap when she earned a Digital Marketing License in May 2018 from The Business of Fashion.
While Raine is working as an intern at Warner Bros, Wynter has been working in ShopStyle Inc. as a Creative Producer and Project Manager since May 2016. Winter started as a marketing intern in January 2011 at Los Angeles Angels of Anaheim, where she served for over six months. She had also worked as a writer in her Campus media.
What Happened to Raine Finley's Mother?
Tawny Kitean kicked the bucket on May 7, 2021, but the cause of her demise was unknown. However, five months after her death, the Orange County Sheriff's Department in California revealed to various news outlets that the cause of Tawny Kitaen's death is dilated cardiomyopathy, a common type of heart disease.
The Bachelor's Party actress died in her home in Newport Beach, California at the age of 59 years old. Her children took to Instagram to announce the demise of their mother.
Is Raine Finley Dating Yet?
For a young woman as beautiful and attractive as Raine Finley, fans are sitting at the edges, fist clinging and waiting for Raine Finely to announce who she is involved with. But contrary to that notion, Raine seems to be more focused on building a career. Also, she doesn't talk much about her personal life in a precise way, so it's unclear her exact relationship status.
Where is Raine Finley Now?
Despite being a superstar, Raine didn't start getting attention from the media and the internet until a few months after her mother's passing on May 7, 2021. Raine was spotted giving talks to various outlets on her mother Tawny Kitaen's sudden death after her mother's passing.
Raine Finley is a resident of the USA as of 2022. At the moment, she is an intern at Burbank, California-based entertainment company Warner Bros. Under Mike Marchain's direction, she develops new musical compositional abilities.