Biography
Robert Conrad Was an Authoritarian Father of 8 Children – Meet Them
Robert Conrad Children Background Details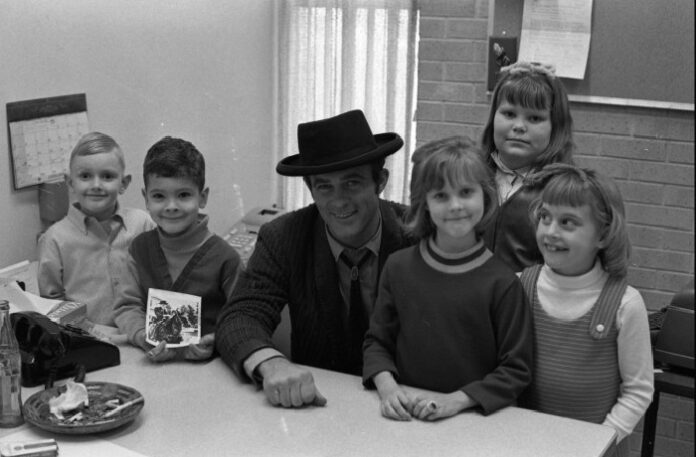 Legendary American actor and singer Robert Conrad was blessed with eight children; six daughters and two sons named Joan, Nancy, Christian, Shane, Christy, Chelsea, Camille, and Kaja.
Robert Conrad is a multi-talented entertainer and one of the most famous faces of American productions of the 1960s and 1970s. While he was alive, he was very successful both in his professional and personal life. From two marriages, Robert Conrad fathered a total of eight children. In this article, we will be focusing on his children and what they have been up to in their individual lives.
Robert Conrad had Eight Children from Two Marriages
Robert was a devoted family man until death took him away on the 8th of February 2020 at the age of 84. In his lifetime, Conrad was married twice, and both marriages though ended in divorce, lasted long – over two and a half decades, which is considered a feat by Hollywood standards. He was first married to an American former model Joan Kenlay. The two, who were both 17 years old at the time, eloped and got married in 1952.
Robert Conrad had five children with his first wife, namely Joan, Nancy, Christian, Shane, and Christy Conrad. The marriage lasted for 25 years and ended in an amicable divorce in 1977, after which the actor stayed single for the next six years. Then in 1983, he decided to give marriage a second try and married LaVelda Fann, an American actress.
Robert Conrad met LaVelda while he was an MC at The Miss National Teenage Pageant, a contest LaVelda won in 1977. Their marriage was frowned upon by many because of the huge age difference between them. While Conrad was 46 at that time, Fann was only 17 years old. Regardless, their marriage went on to last for the next 27 years, ending in divorce in 2010.
Conrad's union with LaVelda produced three daughters, Kaja, Camille, and Chelsea Conrad, bringing the total number of Robert Conrad's children to eight. Meanwhile, Conrad remained unmarried until his death in February 2020 in Malibu, California.
Quick Facts About Robert Conrad's
| | |
| --- | --- |
| Celebrated Name: | Robert Conrad |
| Real Name/Full Name: | Conrad Robert Falk |
| Gender: | Male |
| Age: | 87 years old |
| Birth Date: | 1 March 1935 |
| Birth Place: | Chicago, Illinois, U.S |
| Nationality: | American |
| Height: | 1.72m |
| Weight: | 84Kg |
| Sexual Orientation: | Straight |
| Marital Status: | Divorced |
| Wife/Spouse (Name): | Joan Kenley (m. 1952; div. 1977), LaVelda Lone Fann (m. 1983; div. 2010) |
| Children/Kids (Son and Daughter): | Yes 8(Nancy, Joan, Christy, Christian, Shane, Kaja, Camille, Chelsea) |
| Dating/Girlfriend (Name): | N/A |
| Is Robert Conrad Gay?: | No |
| Profession: | TV Actor, director |
| Salary: | N/A |
| Net Worth in 2023: | $2 million |
Robert Conrad Biography
Joan Conrad was born in Chicago, Illinois, on the 31st of December 1952 to Robert Conrad and his first wife, Joan Kenlay. She is the eldest of the Conrad family and has four biological siblings. Currently 70 years old, Joan was named Marjorie Joan Hubbard at birth. She is a film and television producer and director, although she has been inactive in the entertainment industry for quite some time now.
Joan's most recent work as a producer was in a 1995 episode of the TV series High Sierra Search and Rescue. She was the executive producer for 12 episodes of the series. During her peak years, she made a name for herself and has a total of 12 credits as an executive producer. Some of these include Coach of the Year, Will: The Autobiography of G. Gordon Liddy, Two Fathers: Justice for the Innocent, and High Mountain Rangers, which was her father's TV show.
On the personal front, Joan Conrad is married to Timothy Maclachlan 'Toes' Erwin, an occasional actor known for his roles in My Sister's Keeper, V.I.P, and Wonderland. Timothy frequently serves in the transportation department of his wife's TV shows, such as A Child Lost Forever: The Jerry Sherwood Story and High Sierra Search.
Joan and her husband are parents to two children, including Jesse Shane Erwin, born in June 1982. Jesse is an actor, and some of his best-known movies are Walk of Shame, The Hangover, and Alpha Dog. There is no information about Jesse's siblings in the media.
Nancy Conrad
Date of birth: 1st March 1954
Age: 69 years old
Mother: Joan Kenlay
Occupation: Actress
Marital Status: Married to Norton Flynn
Nancy is the second child of her parents, Robert Conrad and Joan Kenlay. She was born on the 1st day of March 1954, barely two years after her elder sister Joan was born. She is 69 years old now. Nancy Conrad is an actress known for her roles in Flying Misfits, Sudden Death, and The Rockford Files. She featured in some of his father's works during his active years as an actor.
Nancy Conrad's acting career took off in 1975 with the movie Murph the Surph, wherein she played the character of Edna. She served as the caterer while her father was producing and directing his 1988 TV show, High Mountain Rangers. She featured in 14 episodes of Black Sheep Squadron. Just like her sister, Nancy has been inactive in her acting career for some years now.
Nancy Conrad had six acting credits throughout her short acting career, including The Rockford Files, A Man Called Sloane, Sudden Death, and Barnaby Jones. She is married to Norton Flynn. It is not known when they got married and whether they have kids together or not. Nancy has lived her life away from the spotlight ever since her active acting years ended.
In terms of her relationship with her father, Nancy seemed to be among the closest to her father. She once spoke about her father's contentious side, revealing that he was much of a hard worker who got impatient with people when they dragged their feet which might result in ranting and raving. Nancy further explained that it was usually hard to explain to his father reasons why things may not be working well.
Christian Conrad
Date of birth: 17th September 1964
Age: 58 years old
Mother: Joan Kenlay
Occupation: Actor
Marital Status: Unknown
Christian Conrad was born on the 17th of September 1964 in Woodland Hills, California, United States, to Robert Conrad and Joan Kenlay. He is the third child and first son of the former couple and is 58 years old now. Robert and his wife waited 10 years after the birth of their second child Nancy before they had Christian. Upon his birth, he was named Christian Robert Conrad. His middle name shows that he was named after his father.
Christian is a well-known American actor who, like his father before him, appeared in four episodes of Star Trek: Voyager and Star Trek: Deep Space Nine in three separate roles. In the 1984 TV series Hard Knox, he had his first acting job. He is best recognized for his work on Star Trek: Voyager, High Mountain Rangers, Jingle All the Way, and An Inconvenient Woman.
In 2009's Castle TV series, Christian played one of his most recent roles. He has also performed stunts, earning two credits for L.A. Heat and Jingle All the Way. Christian Conrad keeps his personal affairs out of the spotlight, so it is unknown if he is married.
Shane Conrad
Date of birth: 24th September 1971
Age: 51 years old
Mother: Joan Kenlay
Occupation: Actor
Marital Status: Unknown
Shane Conrad is Robert Conrad's fourth child and second son with his first wife, Joan Kenley. Born on 24th September 1971, Shane is currently 51 years old. He shares the same middle name as his elder brother which is their father's name, Robert.
Shane Conrad is an actor and producer who also starred in his father's TV shows, such as High Mountain Rangers, High Sierra Search, and Rescue. Besides that, some of his popular works are Threshold, The Brady Bunch, and JAG. He played the character of Kris in eight episodes of The Bold and the Beautiful. Notably, Shane is the only one among his siblings that is still active in the entertainment industry.
As a producer, he has about nine credits, including The Dirk Diggler Story, Two Fathers: Justice for the Innocent, and L.A. Gang Unit, where he also served as the director and writer. He also wrote and co-created Gordo's Road Show in 2014. Nothing is known about Shane Conrad's personal life.
Christy Conrad
Date of birth: N/A
Mother: Joan Kenlay
Occupation: N/A
Marital Status: Unknown
Christy Conrad is the last child of Robert and his first wife, Joan Kenlay. Apart from the claims that she also was a part of her father's TV shows, High Mountain Rangers, High Sierra Search, and Rescue, nothing again is known about Christy, including her birth details. Her information is not found anywhere in the media. She is the least known among all her siblings. Christy Conrad has an Instagram page, but it is kept private.
Chelsea Conrad
Date of birth: 4th February
Age: Not verified
Mother: LaVelda Fann
Occupation: Jazz Singer, Creative Professional
Marital Status: Unknown
Chelsea Conrad is the first child Robert Conrad had with his second wife LaVelda Fann. Chelsea celebrates her birthdays every 4th of February, but her year of birth is not known. Going by an online search of who Chelsea Conrad is, one might get confused into thinking she is a model named Chelsea Conrad. But that is a different person from Robert Conrad's daughter.
Conrad's daughter Chelsea has a career as a jazz singer, a talent she inherited from her father, who was also good at singing. She dedicated her song, Again for Dad to her father. However, according to her Instagram profile, Chelsea seems to have stepped back from singing and is now a businesswoman and creative professional. She is the founder of a design and decor service company, Circdeco. She shares her time between Nashville and New York.
Chelsea Conrad lives a private life, but in April 2015, she made headlines following a custody battle she had with her ex-boyfriend, Noah Szubsky. According to New York Post, the two had just ended their relationship and were embroiled in a custody battle in Manhattan court over who between them should keep ownership of their Doberman pinscher, Cash. After all, the judge ruled in favor of Chelsea.
Kaja Conrad and Camille Conrad
Date of birth: N/A
Mother: LaVelda Fann
Occupation: Unknown
Marital Status: Unknown
Kaja and Camille are Robert Conrad's last children with his second wife, LaVelda Fann. The two are not as known as their other half-siblings apart from Christy. Information, including when they were born, is not available in the media. However, Camille is reportedly a competitive skier and works for the Austrian company Atomic Ski.
Both sisters run Instagram accounts, and while Kaja set her page to private, Camille set hers to public. On Camille's page, you will mostly see old photos of her family, including rare photos of her late father, Robert Conrad.
Robert Conrad was a Strict Father to His Children
The legendary actor has a fairly big blended family and is described as an authoritative father who made sure that her children were honest, hardworking, and moral people. Significantly, it is recorded that all of his children get along so well. Despite his two failed marriages, Conrad maintained his diplomacy in raising his kids and running the family's financial affairs.
Until his death, he was happy and fulfilled that his children all turned out well. He was a typical strict father who had an old-school way of raising his children but was also forward-thinking as well. While they were still young, he taught them about sexual equality. He took the girls to the gym to work out while he taught the boys how to iron and sew.
Moreover, Robert did not allow her daughters to date until they were 16. He ensured they went to catholic schools and punished them when they didn't do well academically. In the home, he always wanted them to have a spotless and well-arranged room.
Notably, half of Conrad's children followed in his footsteps in the entertainment industry as actors and movie producers, while others tried their hand in other industries. From all indications, Robert Conrad was a very supportive father, but more significantly, he was a proud coworker with his children. Despite being a strict father, his children were happy working with him.
When his children from his first marriage started growing up, they showed interest in his career to his thrill, so he decided to feature them in his TV shows. In 1980, Conrad pitched a family-oriented series featuring mountain search-and-rescue workers to CBS.
His children accompanied him to sets and often got a front-row seat while he acted. Until his death, The Wild Wild West star supported his children's ambition and worked with them on several occasions, both on and behind the camera.
Robert Conrad's Grandchildren
There are no fewer than 19 grandkids of the late actor Robert Conrad, according to records. However, the information that is now available on them is scant or nonexistent. Jesse Erwin, who carried on his family's acting career, is the only one who has gained widespread notoriety. Joan Conrad, the first child of Robert, and her husband Timothy "Toes" Erwin had a son named Jesse.