With Apple's introduction of the latest M2 MacBook models, it's time to take another look at which is the best MacBook to buy in 2022. Buying the newest MacBook isn't always the right decision since Apple has several tiers of performance as well as various sizes. In total, there are five MacBook models available, designated MacBook Air or MacBook Pro, with varying memory and storage configurations, as well as four kinds of processors, providing a wide selection to choose from.
While some retailers still have stock of the older Intel-powered models available, those devices don't make it onto our list of the top MacBook laptops since they rely on outdated technology. It's not that Intel chips can't compete; however, Apple stopped building laptops that use the latest Intel and AMD chips in 2019. That means older models are slowly losing compatibility as each new version of operating systems, such as MacOS Ventura, adds features that are designed exclusively for Apple Silicon.
The five models that Apple currently stocks have greatly varying prices, making it easy for anyone to get started with a MacBook. The Macbook Air M1 is available for as low as $999, or you can aim for a more powerful and larger MacBook Pro 16-inch, which begins at $2,499 and reaches $6,099 with the top spec.
Apple MacBook Air M2
The MacBook Air M2 is the best budget choice
Pros
Uses the latest Apple M2 chip
Super-thin and lightweight
Second-lowest price for a MacBook
Totally silent fanless design
Larger 13.6-inch display and 500-nit brightness
Cons
Eight-core GPU with extra cost for 10-core
Only passive cooling
The screen has a notch
With a complete redesign, the MacBook Air M2 looks quite a bit like the MacBook Pro, with a uniform thickness instead of the classic taper that the original MacBook Air featured. The M2 model is thinner at the back and 0.1 pounds lighter at 2.7 pounds, despite the increased battery capacity. It uses the fanless design that sets the MacBook Air apart from other Mac laptops, yet still manages to run incredibly cool under normal workloads.
The MacBook Air M2 is a great budget option for anyone looking to update to Apple Silicon or switch to a Mac for general computing on the go. It's small and light enough to disappear in a tech bag and can easily be carried around all day. The 500-nit Liquid Retina display is bright enough for most environments, an important feature for a laptop. Equally important is the MacBook Air M2's long battery life, which lasts up to 18 hours during video playback with the Apple TV app. Apple includes a 30-watt USB-C charger (35-watt with the M2 10-core, 512GB storage model) but it's compatible with a 67-watt USB-C power adapter.
The 2022 Apple MacBook Air also features a larger screen size. Looking a bit like an iPhone 12 or 13, the MacBook Air has a thinner top bezel with a notch for the webcam, allowing the display to increase by a little over a quarter-inch to 13.6 inches diagonally. It doesn't sound like much of a change, but it is quite noticeable when the screen is open. While the slimmer bezel is welcome, the notch has been a bit controversial. Both 2021 MacBook Pro models had notches as well, so this is likely a trend that will continue.
On the topic of appearance, the MacBook Air M2 has two new color choices, Midnight and Starlight. Starlight is a pale gold tone that lacks the pink tint of the previous-generation's gold. Midnight is nearly black, which looks striking but comes with a greater risk of scratches and chips becoming noticeable over time.
The new MacBook Air M2 can be configured with up to 24GB of memory, 50% more than the older model supported, and memory is one of the best upgrades to invest in since it makes multitasking faster and more efficient, reducing the need to temporarily move data to storage when running several demanding apps at once.
The big news about the 2022 MacBook Air is the M2 processor, which provides up to an 18% improvement in CPU performance and 35% greater GPU performance. The GPU boost does use a bit more power, which is why the larger-capacity battery doesn't result in longer battery life than the M1 model. Overall, it's a big upgrade that makes this the best choice for a budget MacBook.
Apple MacBook Air M2
The MacBook Air M2 is the best budget choice
Apple MacBook Pro M2
The MacBook Pro M2 is the only Touch Bar model
Pros
Newest M2 processor with 10-core GPU
Fan cooling means no speed throttling
20-hour battery life for video playback
The only current model with a Touch Bar
Cons
Not as fast as larger MacBook Pro models
No physical function keys, only the Touch Bar
Stepping up from the MacBook Air M2, Apple added a larger battery and fan cooling to the MacBook Pro M2, allowing the M2 chip to sustain the highest possible performance for an extended period of time. The base model of the MacBook Pro M2 comes standard with a 10-core GPU also, an extra cost when ordering the MacBook Air M2.
The idea is that this is a professional-grade laptop with all the power that's needed to get through a serious day of work, even when that involves more intensive graphics tasks. For only $100 more, the MacBook Pro M2 opens up more potential. Longer video processing or more intensive graphics projects won't see any performance loss from throttling that might happen on the fanless MacBook Air. Battery life is better as well on the MacBook Pro M2, with up to 20 hours of video playback.
Apple no longer sells the MacBook Pro M1, and that's just as well. It would have been overshadowed by the upgraded MacBook Air M2. Apple's M2 chip adds ProRes encoding and decoding hardware, which greatly speeds the processing of this professional-quality, low-compression video. The 2022 MacBook Pro M2 retains most of the features of the older 13.3-inch model, matching the screen size, 20-hour battery life, up to 2 terabytes of storage, and the Touch Bar. In fact, this is the only current model to include a Touch Bar.
Once a distinguishing feature of the MacBook Pro, Apple removed the touch-sensitive function keys from the 2021 MacBook Pro. This was a controversial feature from the beginning, but for fans of the Touch Bar, this might be a deciding factor in favor of the MacBook Pro M2.
Apple MacBook Pro M2
The MacBook Pro M2 is the only Touch Bar model
Apple MacBook Air M1
The lowest-price option and still a great MacBook
Pros
Apple's M1 blows Intel away
Phenomenal battery life
Excellent keyboard and touchpad
Rock-solid build quality
Simple good looks
Cons
Supports only one external display
Apple's MacBook Air has always been the laptop to go for if you want a lightweight, portable machine. That used to mean you had to sacrifice performance for portability, but the M1 chip changed that and set the stage for further improvements with the more powerful M1 variants and Apple's new M2 processor.
Apple introduced a new model MacBook Air M2 this year but still sells the MacBook Air M1, which was released in 2020 as an under-$1,000 option. That's a $200 savings off the starting price of the 2022 MacBook Air and makes it easier to get into a new Mac.
Who is the MacBook Air M1 right for? The MacBook Air still offers strong performance and has all of the benefits that come with an Apple Silicon-based system. When we reviewed the MacBook Air M1, we found its performance was on par with the MacBook Pro 13 (also outfitted with the M1). In HandBrake, it was 12 seconds behind the Pro, while still posting a very speedy score in its own right. It finished slightly behind the Pro in the Cinebench R23 benchmark but beat it in our Geekbench 5 test — in fact, the MacBook Air's single-core score was one of the highest Geekbench 5 results we have ever seen, with only the M1 Mac Mini and the 24-inch iMac pushing ahead.
What is even more remarkable is that the MacBook Air does all this without a fan. The M1 chip is so power-efficient that Apple has been able to cool this Mac entirely passively, while still enabling it to post some truly beefy performance numbers. If you love your laptops to be absolutely silent, this is a major draw. All that extra power efficiency means the Air lasted 18.5 hours in our video-playback test and 15.5 hours with light web usage. That is incredible longevity.
Elsewhere, you get the classic Apple design with the MacBook Air, including a rock-solid aluminum body and top-notch build quality. The keyboard is Apple's Magic Keyboard, which boasts improved travel and reliability over the butterfly keyboard. There is no Touch Bar — you instead get a row of function keys and a Touch ID button on the right-hand side for logging in and confirming purchases.
As for the Air's Retina display, Apple rates it for 400 nits (although our testing set it slightly lower at 389 nits). It has strong ratings for both color accuracy and contrast (1.39 and 1130:1, respectively, both of which are better than average). It hits 100% of the sRGB gamut and 79% of Adobe RGB — that is a little higher than most Windows laptops, but below the MacBook Pro's rating. If you need a laptop for color-sensitive work, you should consider the Pro over the Air.
What about storage? And how much does the MacBook Air cost? Well, you will get 256GB of solid-state drive (SSD) storage in the $999 entry-level MacBook Air. The 512GB model is $1,199, the 1TB version costs $1,399, and the model with 2TB of SSD storage is $1,799. You can choose between 8GB or 16GB of memory, although this uses a unified memory architecture (UMA), which makes it much more efficient than standard laptops at using its onboard RAM. In almost all consumer use cases, 8GB of UMA memory will be plenty.
With M1 Pro, M1 Max, and M2 chips available, the MacBook Air can't hope to top the Mac performance charts. But its M1 chip is still brilliant for all but the most heavy-duty work, and for most people, it's more than enough.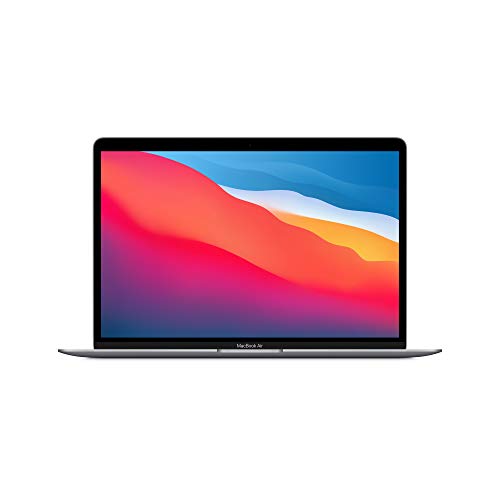 Apple MacBook Air M1
The lowest-price option and still a great MacBook
MacBook Pro 14-inch (2021)
The MacBook Pro 14-inch offers massive raw power
Pros
Incredible XDR display
Fantastic creative performance
Extensive port selection
Keyboard and trackpad are perfect
Excellent speakers and webcam
Endless battery life
When Apple's MacBook Pro 14-inch launched at Apple's Unleashed event in 2021, we were still blown away by the power and performance it offers. That's thanks to its two advanced chip options: the M1 Pro and the M1 Max. The M1 Pro, on the one hand, doubles the GPU cores of the M1, while the M1 Max comes with four times the graphics cores. Both chips have double the high-performance CPU cores of the M1, support more memory and Thunderbolt ports, and pack in many times more transistors. In other words, they're orders of magnitude better than the M1, which itself is already a superb Mac chip.
Compared to the newer M2 processor, Apple's latest entry-level Mac chip raises the bar slightly in one respect. Early benchmarks show the M2 outperforms even the M1 Ultra, Apple's most powerful chip, in single-core tests. The chips designed for heavy workloads make it up quickly in multi-core scores, and the M1 Pro is significantly faster in that regard. When processing demanding jobs, a MacBook Pro with an M1 Pro or M1 Max processor will easily blast past a MacBook with an M2 chip. M2 Pro and Max variants are at least several months away, possibly coming this fall or perhaps in the first half of 2023. That means anyone looking for a high-performance MacBook now should pick between the MacBook Pro 14-inch and MacBook Pro 16-inch.
Buying a MacBook is about more than just the chip powering it, though. The good news here is that the MacBook Pro 14-inch offers a lot more than just blistering performance. Its external chassis is a little thicker than the MacBook Pro 13, but that allows it to fit a chunky HDMI port into the side of the machine. You'll also find an SD card slot and an old favorite in the form of MagSafe, in addition to three Thunderbolt 4 ports. That port variety is great news for anyone who is sick of the dongle nightmare that USB-C MacBooks have faced in the past.
At the top of the keyboard, the Touch Bar has been replaced by a row of full-height function keys. The Touch Bar was divisive during its five-year tenure, and while it always seemed to have a lot of potential, it never turned into the killer feature that Apple imagined it would be. Now, the MacBook Pro 13 is the only Mac laptop that contains it.
The display has also had an upgrade and now boasts a mini-LED panel (dubbed Liquid Retina XDR by Apple) that brings 1,000 nits of sustained brightness (and a frankly ridiculous 1,600 nits of peak brightness), better HDR performance with deeper blacks and more vivid colors, and improved contrast. It also includes ProMotion, which dynamically adjusts the screen refresh rate up to 120Hz, depending on what you're doing.
Around the display, the bezels have been massively shrunk down, giving a much more immersive view of your work on-screen. Interestingly, the webcam cutout still exists, meaning the MacBook Pro 14-inch has a notch like the latest iPhone 13, increasing the size to 14.2 inches. On a large screen like this, it probably won't be as noticeable for you as it might be on an iPhone, but it's something to consider. The webcam itself has been upgraded to 1080p, too.
Not everything is great, though. For one thing, the MacBook Pro 14-inch is a pricey machine. It starts at $1,999 and scales all the way up to $5,899 if you max out every option (in case you're curious, that will get you a 10-core M1 Max chip with a 32-core GPU, 64GB of RAM, and a super-fast 8TB SSD). You get a laptop that will absolutely steamroll almost any task in return, but this device is expensive.
The other drawback is the battery life — sort of. The M1 completely revolutionized the MacBook Pro's battery performance because it was so efficient, and the M1 Pro and M1 Max still hold a lot of water here. But you'll actually get slightly less juice out of the MacBook Pro 14-inch than the MacBook Pro 13. While the latter offers 17 hours of web browsing and 20 hours of video playback (or 16 hours and 21 hours in our review), Apple says the MacBook Pro 14-inch can "only" manage 11 hours of web browsing and 17 hours of video watching. That's still good, but it's a shame that the battery can't keep up with the extra performance of the new chips.
MacBook Pro 14-inch (2021)
The MacBook Pro 14-inch offers massive raw power
MacBook Pro 16-inch (2021)
What about the MacBook Pro 16-inch?
Pros
Incredible XDR display
Fantastic creative performance
Extensive port selection
Keyboard and trackpad are perfect
Excellent speakers and webcam
Endless battery life
The Apple MacBook Pro 16-inch got the same treatment as the MacBook Pro 14-inch at Apple's Unleashed show, meaning it saw a big overhaul inside and out. Like its smaller Mac sibling, you'll get a redesigned chassis with HDMI, SD card, and MagSafe ports. There's no Touch Bar, but you do get slimline bezels (complete with a notch) and an expansive 16.2-inch Liquid Retina XDR display that will be one of the best on the market.
The MacBook Pro 16-inch has the same chip options as the MacBook Pro 14-inch: the M1 Pro and the M1 Max. There's no distinction in the number of cores on offer in either machine. The MacBook Pro 16-inch does show marginal performance gains in user tests. That's likely because of the larger chassis, which allows for a greater cooling system that keeps the incredibly performant chips under control and running at peak performance. You can read our review of the MacBook Pro 16-inch, as well as our comparison between the Pro 14 and 16.
There are other reasons to consider the MacBook Pro 16.-inch. While the MacBook Pro 14-inch's battery performance decreased slightly compared to the MacBook Pro 13, the MacBook Pro 16-inch's battery life has actually seen a huge increase. When we reviewed the 2019 model, its battery lasted for five and a half hours of normal usage, which included web browsing, Spotify, and Slack. That's not great, and far from the 11 hours Apple said you should get (for both web browsing and video playback). The 2021 MacBook Pro 16-inch, on the other hand, will give you 14 hours of web browsing and 21 hours of video watching, according to Apple. That's much more than the previous generation, and more still than the MacBook Pro 14-inch, thanks to the larger chassis holding larger batteries.
The problem with the MacBook Pro 16-inch is the cost. It starts at $2,499, which is $100 more than the 2019 model began at. It's also $500 more than the MacBook Pro 14-inch, yet probably the most noticeable difference is just the size. You'll get comparable performance in the MacBook Pro 14-inch because you can equip it with exactly the same chip, memory configuration, SSD storage, and more. That makes the MacBook Pro 16-inch quite a niche machine and definitely more than what most consumers need.
MacBook Pro 16-inch (2021)
What about the MacBook Pro 16-inch?
Which MacBook should you buy?
This one is a real toss-up between two top competitors representing newer laptops at opposite ends of the spectrum — the MacBook Air M2 and MacBook Pro 14-inch. The MacBook Air M2 offers an all-new design with a 13.6-inch display and the latest Apple chip technology. As a thin, light laptop with incredible battery life and great performance, it's hard to beat even before checking out the price. At $1,199 it's a tempting product for anyone. As a budget pick, it's important to keep in mind that this model isn't designed to sustain maximum speed for extended periods of time. Browsing the internet, watching videos, editing documents, and light video editing will experience no slowdowns. For heavier workloads, a MacBook Pro will always be more appropriate.
The MacBook Pro 14-inch offers incredible power and a brilliant 14.2-inch XDR display with more than double the brightness of the MacBook Air M2. It's an absolutely stunning machine if you need huge amounts of performance in a compact form. It is quite expensive, though, adding $800 to the cost of a MacBook Air M2.
The MacBook Pro 16-inch is undoubtedly a top-end machine and will be ideal if there's a need for a larger built-in display; it also makes easy work of the most demanding workloads. It prices itself out of contention for most people, though, adding $500 to the cost of the 14-inch model. It's more than just a few more inches, however. The MacBook Pro 16-inch increases screen resolution from 3024 by 1964 pixels to 3456 by 2234 pixels, 30% more pixels to expand the working canvas while keeping more toolbar and timeline options on-screen when editing photos and videos.
A less-obvious choice like the MacBook Air M1 is still valid in 2022. Its M1 chip might be older and doesn't hold a candle to the M1 Pro or M1 Max, but for most people, it brings more than enough power. You also get the benefit of $200 in your pocket to spend on apps and accessories. On a tight budget, the 2020 model might be the best choice.
Will Apple make another MacBook with an Intel chip?
Given the surge in Mac popularity since Apple Silicon was released, it's highly unlikely that Apple will return to Intel chips unless there is a big performance leap. Intel is reportedly investing heavily to try to regain dominance in the chip industry after slowly slipping over the last few years. It's newest chips have performance that challenges Apple's best but have a trade-off of drawing significantly more power and generating a large amount of heat in the process. Apple is enjoying a resurgence of the Mac platform and seems to be quite happy to have control over its own future by designing the Mac and MacBook from the core silicon right up to the operating system and app level, integrating the system more than ever before.
Apple is expected to do a refresh on a few of its larger and faster MacBook Pro models next. The M2 will likely see higher performance variants just as the M1 chip did. In late 2022 or early 2023, check back for news about a possible M2 Pro and M2 Max that might double and quadruple the M2's impressive graphics power. We will update this list regularly to keep it up to date with the latest and greatest MacBook devices.
Editors' Recommendations