While Wi-Fi 5 routers have been around for years, and most homes in America likely won't top out on the speeds that these routers support, upgrading to a Wi-Fi 6 router comes with many alluring benefits. You'll be able to get faster speeds — up to 9.6Gbps — if your home internet plan can support it, better security, and more manageability by being able to connect more devices to an access point.
To take advantage of the best features of Wi-Fi 6, you'll need to upgrade to a new router. Here are some of the best Wi-Fi 6 and Wi-Fi 6E routers that should be on the top of your shopping list.
Netgear Nighthawk RAXE300
Best all-around Wi-Fi 6E router
Pros
Wi-Fi 6E support
More affordable than flagship RAXE500
Attractive modern design without unsightly antennas
Cons
Optional services require subscription
Why you should buy this: The Nighthawk RAXE300 boasts a unique design that can blanket a large space with Wi-Fi 6E coverage.
Who's it for: Home users who don't want a mesh system or unsightly antennas on their routers.
Why we picked the Netgear Nighthawk RAXE300:
Netgear's latest RAXE300 is among the most accessible Wi-Fi 6E routers, and it replaces the company Wi-Fi 6-ready Nighthawk AX8 on our list. Announced earlier in the year at CES 2022, the RAXE300 brings Wi-Fi 6E support, which is designed to lower latency and improve speeds, to a modern and futuristic wing-shaped form factor similar to the company's more premium gaming routers, like the RAXE500.
The tri-band router can support transfer speeds up to 7.8Gbps, and it comes with a new 6GHz band, making it a well-rounded offering for homes that want to invest in a future-proof router. Up to eight Wi-Fi streams are supported, and the company claims that its robust wing-shaped antenna design can blanket homes as large as 2,500 square feet. For wired connections, there are plenty of ports on the back.
The simple to use Nighthawk app brings plenty of control to the router, and optional subscription packages let you augment the experience with security packages to protect your Internet traffic. The Nighthawk RAXE300 will start shipping this Spring.
Netgear Nighthawk RAXE300
Best all-around Wi-Fi 6E router
Asus RT-AX88U
Best Wi-Fi 6 router
Pros
Can be converted into a mesh unit
Plenty of LAN ports
Solid Wi-Fi performance
Cons
Still relatively expensive
Why you should buy this: The Asus RT-AX88U is a fast Wi-Fi 6 router designed to prioritize gaming traffic with a simple design that's elevated with gold antenna accents.
Who's it for: Gamers and streamers who worry about speeds.
Why we picked the Asus RT-AX88U:
Asus has several Wi-Fi 6 routers and, honestly, we're impressed with all of them. This particular model has a lot in common with the Nighthawk AX8, offering 6GBps speeds (around 1.15Mbps on the 2.4GHz band and 4.8Mbps on the 5GHz band, the expected speeds on all Wi-Fi 6 models), plus eight LAN ports. The dual-band router also works with AiMesh, the Asus Wi-Fi mesh system that can link multiple routers together for better, stronger coverage where necessary.
The router also supports both OFDMA and MU-MIMO for direct connections to devices for greater stability and better data streaming. Gamers, meanwhile, will appreciate the Adaptive QoS that can prioritize games to make sure there are no slowdowns that the worst possible time. As with most modern Asus routers, the Asus RT-AX88U's network is guarded by AiProtection Pro, a security filter to help keep your data safe.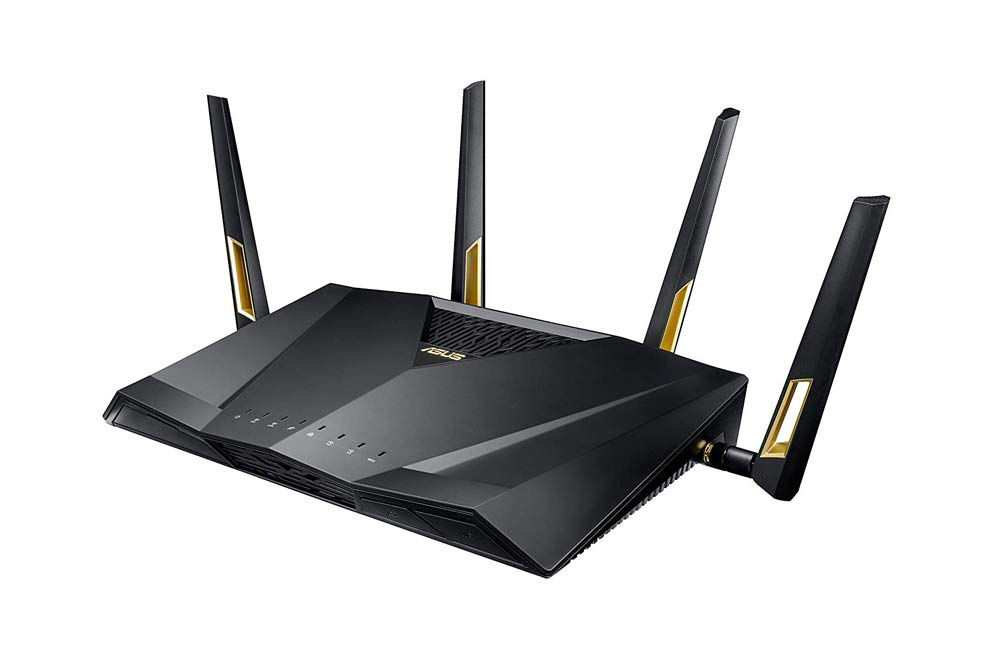 Asus RT-AX88U
Best Wi-Fi 6 router
TP-Link Archer AX6000
Best router for heavy streaming
Pros
Plenty of ports
Comes loaded with security features
Solid performance on 5GHz band
Impressive coverage
Cons
Bulky design
Limited control through app
Why you should buy this: The TP-Link Archer AX6000 is made to minimize congestion and offers better band steering control for tech-savvy users.
Who's it for: Gamers, streamers, and houses with multiple IoT devices trying to connect simultaneously.
Why we picked the TP-Link Archer AX6000:
While Netgear and Asus offer top-tier ax models, you know TP-Link can't be far behind. This Archer model offers up to 6Gbps across its bands, nine Gigabit LAN ports, and compatibility with both OFDMA and MU-MIMO. It comes with a 1.8Ghz quad-core processor, and two co-processors to help manage connection quality. By now, all this may be feeling a little familiar. But TP-Link has a few unique features to contribute.
The "band-steering" and "airtime-fairness" software helps make sure that bands don't get overcrowded, while also ensuring that one device doesn't get too much attention. The TP-Link Archer AX6000 also comes with a USB-C 3.0 port, useful for everything from data transfer to charging up your mobile devices — a nice benefit if your router is on your desktop. There's even Alexa compatibility if you want to give it voice commands.
TP-Link Archer AX6000
Best router for heavy streaming
Asus ROG Rapture GT-AXE16000
Best premium gaming router
Pros
Solid performance and great range
Comes pre-loaded with security features
Wi-Fi 6 support
Targeted performance for gaming
Why you should buy this: The Asus ROG Rapture GT-AXE16000 offers quad-band performance with excellent gaming support.
Who's it for: Serious gamers and streamers.
Why we picked the Asus ROG Rapture GT-AXE16000:
Primarily interested in gaming? The Rapture is a Wi-Fi 6E model designed for gamers that may not be able to get a wired connection but still want the highest-quality wireless connection available. The router will prioritize gaming devices, gaming servers, and what it identifies as gaming data packets, speeding up the connection from beginning to end. It also offers quad-band support with the latest 6GHz frequency band, helpful if you have a lot of smart devices to offload.
If you want a wired connection option, the Asus ROG Rapture GT-AX11000 has a dedicated 2.5G port for gaming devices. AiMesh allows you to connect multiple Asus devices, while AirProtection provides a nice security filter. There are also plenty of options to customize connection monitoring and prioritization so you can check up on the quality of your connections at any time. Oh, and it makes port forward extra, with the ability to pick your game and device and activate open NAT in seconds.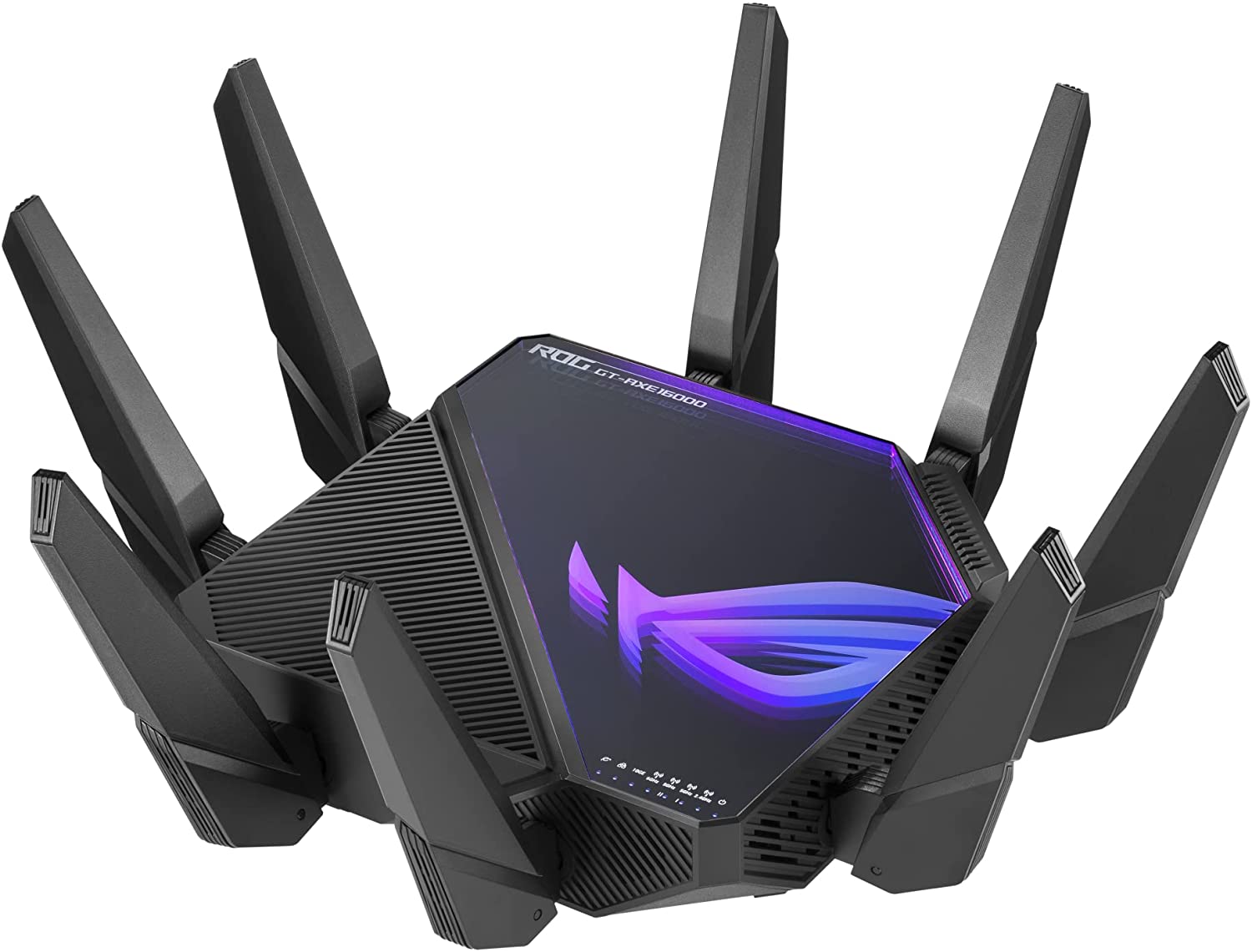 Asus ROG Rapture GT-AXE16000
Best premium gaming router
TP-Link Deco AXE5400
Best budget Wi-Fi 6 mesh network
Pros
Stylish design
Great coverage and range for larger homes
More affordable than many picks
Why you should buy this: TP-Link's Deco comes with an attractive, minimalist design that can complement your home decor, and the mesh system can blanket large spaces.
Who's it for: Home users or small business owners.
Why we picked the TP-Link Deco AXE5400:
TP-Link's Deco was an impressive mesh system to begin with, designed to spread multiple units throughout your building for superior coverage and no dead zones. But thanks to its latest upgrade, Deco is better than ever. The new units can cover up to 5,500 square feet, making them suitable for pretty much any large space you have. They also provide up to three Gigabits per second (Gbps) speeds for up to 200 devices, so it's faster than ever, too.
This tri-band router extends its Wi-Fi 6 capabilities to embrace the 6GHz band, making it suitable for a wide range of devices even if they aren't Wi-Fi 6. The initial setup is simple, too. Just follow the process outlined in the Deco app. Deco is the mesh system to pick for expansive and expandable networking in 2022.
TP-Link Deco AXE5400
Best budget Wi-Fi 6 mesh network
Netgear Orbi RBK852
Best Wi-Fi 6 mesh network
Pros
Tri-band design
Strong (hidden) antennas for excellent reception
Plenty of ports on every unit
Expandable mesh network
Cons
Subscription services a costly optional extra
Bulky design compared to other systems
Why you should buy this: Netgear's Orbi delivers strong Wi-Fi 6 signals and fast speeds with its tri-band design, and each node comes with Ethernet ports for more versatility.
Who's it for: Home users and 4K streamers.
Why we picked the Netgear Orbi:
A mesh router system includes satellite models that function as repeaters, strengthening and rebroadcasting the Wi-Fi signal at different points to cover much more ground. This particular version offers both the primary router and one extender to cover a total of 5,000 square feet, but you can add more satellites for covering an even greater area, if necessary.
In addition to Wi-Fi 6 speeds (up to 4.2Gbps across the three bands supported by the router), this mesh system can handle more than 40 devices and includes Gigabit Ethernet ports on each device for wired connections. The Orbi app also gets a nod for being particularly easy to work with, an important factor when setting up a more complicated mesh system.
While such a high-end mesh network may not be for everyone, the Netgear Orbi is an excellent choice for large homes, businesses, and public areas where plentiful coverage is important. You can choose several different varieties if you want to look for a different price!
Netgear Orbi RBK852
Best Wi-Fi 6 mesh network
Linksys Atlas Max 6E
Best compact Wi-Fi 6E mesh network
Pros
Stylish compact design
Wi-Fi 6E network support
Can add more units if your needs change
Why you should buy this: Linksys' Atlas Max 6E comes with Wi-Fi 6 support and boasts speeds up to 8.4Gbps.
Who's it for: Gamers, 4K streamers, and small offices that need fast speeds and robust coverage.
Why we picked the Linksys Atlas Max 6E:
Even though Linksys's Atlas Max 6E wireless mesh networking system is one of the priciest options on our list, it brings advanced Wi-Fi 6E support to those who need the latest and greatest technology. Promising speeds up to 6.5 times faster than Wi-Fi 5, the Atlas Max 6E is a great tool for those with gigabit internet or faster and anyone who wants to stream games for the lowest latency connections. The Atlas Max 6E adds in a 6GHz band and supports the same 4x channel of current systems, allowing more devices to connect to your network for speeds up to 8.4Gbps.
The Atlas Max 6E benefits from the same features of most modern mesh networks, including a smartphone app to access the settings, the ability to set up a separate guest network and parental controls, and firmware updates that happen automatically in the background. The system comes with 12 internal antennas that deliver tri-band coverage on the 2.4GHz, 5GHz, and 6GHz spectrums. Powering the whole thing is a 2.2GHz quad-core processor, and Linksys claims that a network with two nodes can blanket up to 6,000 square feet of space. WP3 security is supported on all bands.
Linksys Atlas Max 6E
Best compact Wi-Fi 6E mesh network
TP-Link Archer AX50
Best budget Wi-Fi 6 router
Pros
Affordable price won't break the bank
Support for Wi-Fi 6
Bundled security features won't cost extra
Supports advanced features like QoS
Cons
Protruding antenna design isn't the most attractive
Why you should buy this: You're on a budget and want to upgrade to a Wi-Fi 6 router.
Who's it for: Any home Internet user.
Why we picked the TP-Link Archer AX50:
TP-Link's Archer AX50 is a solid purchase for homes that require a capable Wi-Fi 6 router to deliver fast speeds for a multitude of users. The Archer AX50 can support basic streaming and gaming, office and work calls, and general Internet surfing without breaking the bank. It's also loaded with features, including four Ethernet ports on the rear, four external antennas supporting two Wi-Fi bands, and support for more advanced capabilities, like beamforming, link aggregation, MU-MIMO, and QoS, making it great for homes with basic and even advanced users.
The best part about purchasing a TP-Link router is that you get access to a lifetime subscription of more advanced security features, which would have cost an extra subscription on routers from rival brands. This makes it easy — and affordable — to upgrade to a capable Wi-Fi 6 router for your home.
TP-Link Archer AX50
Best budget Wi-Fi 6 router
Eero Pro 6E
Best affordable Wi-Fi 6E mesh network
Pros
Supports fast, multigig connectivity
Wi-Fi 6E onboard
Easy to use and setup
Great range
Relatively affordable compared to competitors
Cons
No quad-band design
Late to the Wi-Fi 6E game
Why you should buy this: You want a Wi-Fi 6E mesh network without breaking the bank.
Who's it for: Home Internet users with gigabit speeds or faster.
Why we picked the Eero Pro 6E:
Amazon recently launched two new routers to expand its Eero mesh networking lineup — the Eero Pro 6E and Eero 6+ — and both are terrific options for anyone looking to upgrade their home wireless network to Wi-Fi 6 or Wi-Fi 6E. While we've reviewed both new routers, the Eero Pro 6E is the flagship option that's designed for those with gigabit or faster home broadband connections, and with a configuration of three routers spread out through the home, Amazon stated that you can blanket a space as large as 6,000 square feet with reliable Wi-Fi coverage.
While the Eero Pro 6E brings Wi-Fi 6E support at a more affordable price than competing Wi-Fi 6E routers and mesh networks at $700 for a three-pack — the rival Netgear Orbi Wi-Fi 6E mesh system costs more than double what Amazon is charging for its in-house unit — it should be noted that to maximize your investment in this system, you'll want to have at least gigabit Internet through your cable or fiber provider. The Eero Pro 6E can handle multi-gig wired connections as well as gigabit wireless. And unlike the first-generation multi-pack Eero, the Eero Pro 6E eliminates the Beacon design for the satellite nodes in favor of a more versatile design with routers that can serve as the main router or the node. This new design allows gamers and streamers in remote rooms of the home to use a wired connection with the nodes for more reliable coverage.
Eero Pro 6E
Best affordable Wi-Fi 6E mesh network
Are Wi-Fi 6 routers worth it?
Yes. A router isn't a device that's replaced very often. Unlike a smartphone, it tends to sit in one spot and do its job for several years or so. While Wi-Fi 6 is only starting to show up on newer devices (as we mentioned, it first appeared on the market in late 2019) within a couple of years, it will become the expected standard, the way 802.11ac was considered standard. Getting a Wi-Fi 6 router now isn't just good future-proofing, it's really the only option if you want a router that will be useful for longer than a year or two.
Do Wi-Fi 6 routers have better range?
Not innately, no. Wi-Fi 6 will improve your connection quality and eliminate dead zones, but your router will still keep its original technical range. If you need a larger technical range, mesh routers are probably your best option. The big benefits of Wi-Fi 6, also designated by Wi-Fi 802.11ax, include better throughput speeds, reduced latency, and the ability to connect more devices to the same access point. These benefits will be great for applications that require responsiveness, such as gaming, augmented reality (AR), and VR, to name a few. This makes Wi-Fi 6 routers great gaming routers. To benefit from Wi-Fi 6's support for faster speeds, you'll need a fast broadband connection, and that's something you'll have to discuss with your internet service provider (ISP).
How do I check if my router supports Wi-Fi 6?
It's usually pretty obvious, but you can always look up your router model online. Compatible routers will state clearly they use Wi-Fi 6 or 802.11ax, which both mean the same thing. If you've had your router for more than a year, it probably won't use Wi-Fi 6.
Remember that it's also important to see if any of your new devices support Wi-Fi 6. You'll have to make sure both your router and the connected device are Wi-Fi 6 compatible so that they can work without any disruptions.
Manufacturers are already starting work on the next generation of Wi-Fi technology, called Wi-Fi 7. Wi-Fi 7 is also known as 802.11be, and the standard promises even faster speeds than the current Wi-Fi 6. It will take several years before Wi-Fi 7 begins to hit the market, and the first devices and routers supporting this new technology aren't expected until 2024.
Can my current router be upgraded to Wi-Fi 6?
Unfortunately, a simple upgrade isn't possible. Wi-Fi 6 requires new components that are only available in newer routers. The same isn't necessarily true of your connected devices, though. If you are comfortable modding your computer, you may be able to add a new PC Wi-Fi card that supports Wi-Fi 6. In the future, if you're upgrading your smartphone, tablet, or laptop, be sure to check to see if those devices support Wi-Fi 6 — Intel-powered devices will be labeled as Wi-Fi 6 Gig+. In addition to Wi-Fi 6, a revised standard called Wi-Fi 6E is starting to make its way to the market.
What is Wi-Fi 6E?
It's an additional upgrade to Wi-Fi 6 that adds a few more features that didn't quite make it onto the original protocol. That includes support for the newest 6GHz band, which can allow for improved speeds and lower latency. Not many devices use the 6GHz band yet, but they will start to become more common.
Does Wi-Fi 6 have any disadvantages?
We mentioned that you'll need compatible devices to take advantage of any Wi-Fi 6 or 6E features. Another potential downside is that you really need Gigabit-level internet plans to take advantage of the best Wi-Fi 6 advantages. While you can still enjoy a faster local network with Wi-Fi 6, it really shines when helping deliver a Gigabit+ internet connection to a range of devices.
Is a mesh network good for Wi-Fi 6?
A mesh network uses satellite routers to help spread the signal over a much wider radius and fix any dead-zone problems. It's a useful solution for businesses, large public spaces, and especially large homes. It complements the features of Wi-Fi 6 and ensures the network will be ready for new devices for years to come. But we highly suggest looking for a 6E model that includes the latest updates.
Editors' Recommendations